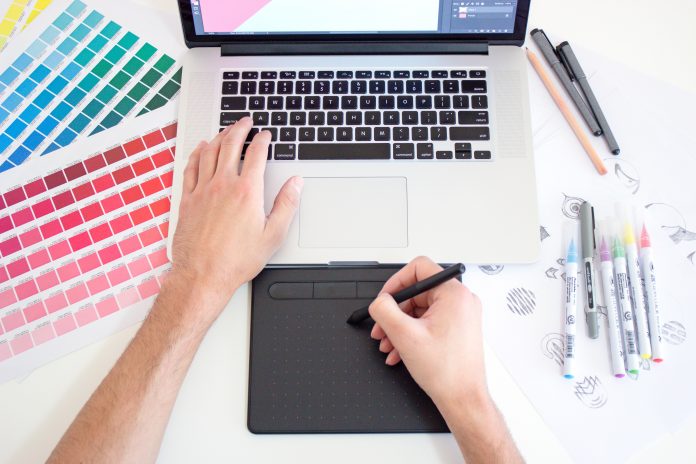 Are you a creative individual? Well If you have some free time, this is perfect for you. If you are artistic and can use a computer, you can make a good living being a graphic designer. As long as you are visually creative and can design an image, you can make between $20-30 an hour. That's what we are going to go over today.

Let's get started!

First Thing You Need

I am no stranger to this type of work. You need to have the proper tools before you can get started. I use Photoshop. However, there are cheaper alternatives that you can get the same result with. Here are a couple for you to check out.

Canva – This is a good one. The reason being it's free. There is a "Pro" version. It has some great extra features. You do not need it to get started though. The free version comes with a lot of free templates. This makes things easier especially if you are just getting started. You can also upload pictures, fonts, and elements to it.

PicMonkey – This is a big step up from Canva. It's great for styling text how you want it exactly. You can also do shadowing better. It's easier to do than on Canva. The downside of this is there is a small monthly fee to use it. It is worth it though.

Learn How to Use Them

These programs aren't overall difficult to use. Learning to layer, change fonts, add shading and gradient, and other things aren't easy to figure out. There are a bunch of ways to learn.

The cheap and easy way is by learning on YouTube. If you know the terminology and what you are trying to do, you can find it on YouTube. For example, you can search how to make letters look metallic. You will find tutorials on using shading and the gradient effect.

This may cost a little cash, but go get a course on Udemy. This will take you through a step by step course on how to use all the features. You will get more out of the program in the long run.
Graphics That Make Money

You should officially know how to be able to basically work the program you are wanting to work with. What do you make to monetize off this skill? Here are some ideas of the most common graphics companies need.

Pinterest Pins – Pinterest is a massive business right now. They have over 334 million users. There are a lot of companies large and small that utilize this platform. It's a great way to drive traffic to your site and products. The huge thing here is Pinterest requires the creation of Pins. This is where you come in. Companies normally don't have the time to do this. So they outsource this to individuals like yourself. Creating pins is time-consuming. Keep in mind they need a ton of pins made. There is always someone out there that will need you.

Printables – This is a hard one to get your foot in the door. If you can land a job doing this for a company, you can help make logos for their promotional items. If not you are going to have to try your luck on Amazon. You can create images for things like journals and book covers for individuals. You make the image and Amazon will print them. If you keep up with trends this is something you can monopolize on.

Social Media and Product Graphics – Once again it goes along with the printables concept. You will be responsible for those things. You will also be responsible for making graphics showcasing their products and services. These will be used for social media as well as websites.

Digital Downloads – Have you ever gotten a PDF download? It was nothing but plain text and boring? This where you come in. You will help add life to these files. You can make a cover and images to make the document look better.

Finding Clients

To simplify this process, find one or two types of graphics you can do with ease. Keep in mind they also have to look good. Once you are pumping these out it's time for you to make a portfolio. Showcase your best work for potential clients. So where do you find the clients?

Fiverr is a great place for this. This is a good place to find freelance work. If your work is good, you should be able to land a gig. You can

There are tons of freelance job boards out there. You just need to find them. Find social media managers and pitch your ideas to them. You also can find people on Facebook and LinkedIn.

My suggestion would be this. Look up local businesses in your area. See if they need help. They need help just as much as the larger businesses. The best part of this is the local networking. If you do a good job for one business, they could know someone that needs you. Pick a niche, and start calling people.

So there you have it. That's all it takes. The largest part of this is connecting with people and getting gigs. Let your work speak for you. Get out there and get it. 'Till next time!